It is estimated that in the Asia–Pacific region the cost of marine litter to marine industries is a minimum of €1.26 billion per year, including losses from tourism, entangled ship propellers and time lost for fishing (McIlgorm, A., et al., 2008). In the EU, it has been suggested that the cost for coastal and beach cleaning is about €630 million annually (Acoleyen, M., et al., 2013; Werner, S., et al., 2016).
Preventing pollution, especially plastics from entering the environment, requires focused efforts on behaviour change (for example, reducing reliance on single-use plastics), improvements in waste management and developing a more sustainable life cycle for wastes such plastics. The steps to improve poor systems of waste management or mismanagement of waste rely on quantifying the scale of the problem and the sources of plastics leakage and other wastes into the system. This quantification had not happened. Gaps in local capacity, as well as details of infrastructure and management systems needed to be quantified and linked to the leaked waste in order to adequately deal with the issues.
In 2018, CLiP contracted Asia Pacific Waste Consultants (APWC) to study waste management practices in Vanuatu and offer best-practice solutions and training to staff who are engaged in the design and delivery of waste services. This project delivered data collection, analysis and recommended best practice activities that address gaps in the management of waste within Vanuatu.
To ascertain a full picture of the waste management practices in Vanuatu, the APWC team conducted a literature review in unison with extensive stakeholder engagement, sample and data collection. The APWC worked Vanuatu for three weeks during November 2018, covering the islands of Efate and Espiritu Santo and the respective provincial governments for Shefa and Sanma province and the municipalities of Port Vila Municipal Council and Luganville Municipal Council
Data collected allowed APWC to assess the amount of waste that required immediate management. Household interviews captured waste disposal methods and behaviours and socio-economic and waste behaviour data was cross referenced with the waste disposed. APWC identified 11 gaps in the provision of waste management services these include
Policy/legislation
Data collection and decision making
Economic instruments
Collection services
Equipment and maintenance
Contracts and tenders
Landfill design and management
Education and engagement
Recycling
Monitoring
Training
As part of APWC's scoping visit, several remote communities were visited. These include:
Lelepa and Ifira off the coast of Efate
Tutuba and Mavea off the coast of Santo
Most remote communities have no collection service, and with the municipalities struggling to get their collection services right in the short term, the team was not able to provide a solution in the form of a collection service. Therefore, short-term local solutions were provided to the communities. Based on initial observations, the problem priority wastes to be managed in the island communities are:
Nappies (currently being buried or thrown into the ocean and streams)
Organic waste more than 50% of waste in Port Vila and Luganville (currently being burnt)
Plastics – both PET and soft plastics – (currently being burnt)
Tin cans – aluminium and steel – (currently being burnt)
Landfill space is rapidly running out
Burning of waste is common
Extensive stakeholder consultation to determine the best practice implementation requirements for each community visited. Best practice implementation actions undertaken at community level. A best practice and training study tour conducted in February 2019
APWC captured waste data over a two week period, this data included;
All work undertaken on two islands: Efate and Espiritu Santo.
Household waste audit and interviews conducted in town, regional and rural communities
Commercial waste audit conducted in town and regional communities
Total of six communities sampled
205 household samples collected, 100 urban samples from five separate communities and 105 samples from outer islands
45 samples from commercial premises, 30 Port Vila and 15 in Luganville
Collected and sorted 1,545 kilograms of waste from five locations and 246 premises in Vanuautu
7 tonnes of green waste weighed and assessed in Luganville.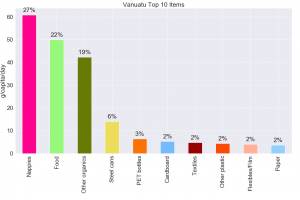 The audit confirmed;
Waste generated between urban and rural areas differed. Of interest was the correlation between waste generation and the average grocery bill as opposed to a more complex model incorporating the number of people within the household, household income and a collection service rating in addition to average grocery spends.
There is large variability in the volumes of waste in urban areas, with existing systems capturing 30-70 per cent of waste produced
All waste generated in rural areas was disposed of through burning, burying and dumping on land or nearby waterways
Nappies appeared to be a problem waste making up 27 per cent of overall waste disposed or 61 grams per capita per day of the waste assessed through the audits. In Lelepa, where there are no disposal systems, 19% of the population throws nappies in to the ocean
From the waste data captured APWC were able to outline best practice actions that range from regulatory to behavioural, with thirteen recommendation areas that can reduce the volumes of waste entering marine environments in the future, whilst also improving the social and economic prospects of communities in Vanuatu.
These recommendations include;
1. Institutional Arrangement and Support
Staff
Waste management financing
Capacity building
Co-ordination
Waste Management Plans
Legislation – support development of waste bylaws
2. Infrastructure
Collection services
Disposal services
Recycling
Litter control -installation of river booms at key rivers/lagoons
3. Education and awareness
Education materials – financing, supporting and developing how to guides in English and local languages
4. Others
Waste pickers – Improve working conditions
Implementing agency for Cefas project – Continuity of waste projects through the same coordinating mechanism